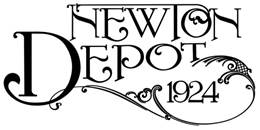 "For years, I thought it would be good fun to program a concert of music related to railroading and rail history. Many composers have tackled the subject some as fans and some, like Johann Strauss from a genuine sense of fear of flying (on the rails, that is). It also seemed natural since more than one of the communities where we perform have venues right by the railroad tracks and trains can come through during the concerts obliterating the sound of the orchestra. Besides, people love trains! Everyone waves and better yet, the engineer almost always waves back. Musically, it's a great connection with the audience." -John Gordon Ross, Conductor, Western Piedmont Symphony.
The Southeastern Narrow Gauge & Shortline Museum will host "Night Train, Rolling Down the Tracks: A Celebration of Railroads" performed by the Western Piedmont Chamber Orchestra under the direction of John Gordon Ross, outside at the Newton Depot on March 25th, 2017 at 3 p.m.

This family-friendly event is free to the public and will be perfect for all ages and will feature many songs from America's vast history of railroad folklore, as well as songs from around the world. This event is the result of a collaborative effort between the Newton Depot Authority and the Western Piedmont Symphony and is supported by a grant from the United Arts Council of Catawba County. This will be a great opportunity for neighbors and visitors to enjoy the Newton Depot as we kick-off our "All Aboard!" Capital Campaign to expand the campus and the Newton Depot District.
There will be activities throughout the day at the Newton Depot Campus. The Museum, the Alexander Railroad Pavilion, and the Model Railroad Center will be open from 10 a.m. until 6 p.m. Food and beverages will be available for purchase from noon – 5 p.m. In the event of inclement weather, the performance will be held in the Newton-Conover Auditorium at 60 West 6th Street in Newton.
"We certainly invite all the friends of the historic Newton Depot and area residents to this grand event, perhaps the most exciting cultural event in North Newton. In addition to great music, all who attend will see the renaissance occurring in this section of Newton as well as the progress of the Southeastern Narrow Gauge and Shortline Museum." – Thomas W. Warlick, Vice Chairman, Newton Depot Authority.
The Southeastern Narrow Gauge & Shortline Museum is the result of the collaboration of two groups: the Newton Depot Authority and the Alexander Chapter of the NRHS. The Museum is located in the historic Newton Depot at 1123 N. Main Ave. in Newton and is open every Friday and Saturday from 9 a.m. – 4 p.m. with private tours available by request. Monthly Alexander Chapter NRHS meetings are held at the museum on the first Thursday of each month at 7:30 p.m. and the public is invited and welcome.
For more information please visit their website at newtondepot.com