Home » NC Community Events, Wilmington
Battleship Blast 4th of July Fireworks and Festivities
Battleship Blast 4th of July Fireworks and Festivities
Battleship NORTH CAROLINA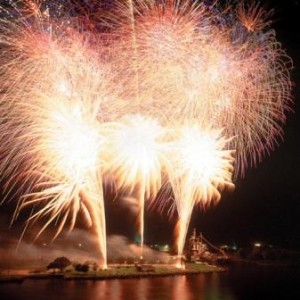 Noted as Coastal Living's
10 Spots to Celebrate the Fourth
and recent recipient of Southeast Tourism Society's award of Top 20 things to due in July, the Battleship NORTH CAROLINA, U.S. Cellular and the City of Wilmington present the 2012, 16th Annual Battleship Blast Fireworks show sponsored by WECT TV-6 and 102.7 WGNI on Wednesday, July 4, 2012.
The celebration will not disappoint and at 9:05pm the Battleship fireworks spectacular will begin. You don't want to miss this year as the fireworks display will light up the skies of Wilmington.Starting at 5:00 the 4th of July Riverfront Celebration will begin in downtown Wilmington as the Street Fair kicks off the festivities.  Entertainment will provided by L Shaped Lot in Riverfront Park and food, music and more fun beginning on Water Street.
U.S. Cellular will offer an interactive Rewards Suite to guests, which includes a photo station, gaming station, scavenger hunt featuring the latest cutting-edge devices.
"We're excited to participate in the Battleship Blast again this year and bring some of our unique benefits to guests at the event. While enjoying the fun, guests can stop by the Rewards Suite to charge their cell phone battery through our Battery Swap program," said Dee Taylor, director of sales for U.S. Cellular in eastern North Carolina. "It's a unique benefit of being a U.S. Cellular customer and one of the reasons why we have the happiest customers in wireless."Then, at 9:05pm when the sun has just set the Battleship NORTH CAROLINA hosts the 15th Annual Battleship Blast fireworks show. As you look over the river from downtown Wilmington the sky spectacular will begin. This production by Pyros Shows, an international award-winning pyrotechnics company, is guaranteed to dazzle residents and visitors alike.  Bring the entire family and enjoy an explosive evening!
The only place you need to be this holiday is downtown Wilmington for the best view of amazing pyro technics.  For those viewing the fireworks along the river bring your radios and tune in to WGNI 102.7 FM.  Choreographed music to the fireworks spectacular will be simulcast on WGNI 102.7 FM and to those not able to be downtown, WECT TV-6 will broadcast and stream the live from 9:00pm-9:30pm.The entire Battleship complex on Eagles Island will be closed at 6:00pm and all vehicles will be required to leave by 6:30pm. Therefore, come early and visit the equally impressive Battleship NORTH CAROLINA before the activities in the evening.
Parking Information
City decks located at 115 Market St. and 114 N. 2nd St., the County deck at 212 N. 2nd St. and the Wilmington Convention Center deck will charge a $7.00 event fee.
Street Closures
Water between Market and Grace and the 00 blocks of Market and Princess will close at 2:00 pm (event area); Chestnut between 3rd and Front will close at 5:00 pm (for traffic purposes).
Areas west of 3rd St. towards the river will close by approximately 6:00 pm once parking is no longer available. If you are planning on parking in the downtown district or in one of the parking decks arrive early.
Important Traffic Information
Vehicles should park on the side of downtown (with Chestnut St. being the dividing line) that is closest to the direction they will travel after the fireworks have ended.
Traffic parked south of Chestnut St. will be diverted south towards Market St., Dawson St. and the Cape Fear Memorial Bridge – includes the City parking decks in the 100 block of Market St. and in the 100 block of N. 2nd St.
Traffic parked north of Chestnut St. will be diverted north towards MLK Parkway and the Isabel Holmes Bridge – includes the NHC parking deck in the 200 block of N. 2nd St.
Expect delays when arriving and leaving the downtown area due to large volumes of traffic for the event. Those using parking decks can expect longer delays due to high volumes exiting at one time.
No standing, stopping or parking on bridges, roadways or along medians on route 17, 74/76, 133 or 421 – police will monitor these areas and towing will be enforced.
A detour will occur at the 421 N. ramp from 74/76 as early as 6:00 pm or when necessary.
For traffic information call 511 or visit the NCDOT TIMS website at http://tims.ncdot.gov/tims/.
The Battleship NORTH CAROLINA is self-supporting, not tax supported and relies primarily upon admissions to tour the Ship, sales in the Ship's Store, donations and investments. No funds for its administration and operation come from appropriations from governmental entities at the local, state or federal levels. Located at the junction of Highways 17/74/76/421 on the Cape Fear River.   Visit www.battleshipnc.com or follow us on Facebook.com/ncbb55 and Twitter.com/battleshipnc for more information.