By Kimberley Payne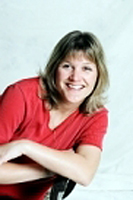 There are four major variables to consider when setting up a cardiovascular fitness program. A well-designed program follows the FITT formula: Frequency, Intensity, Time, and Type.
A. Frequency
Frequency is defined as the number of cardiovascular exercise training sessions per week. You can exercise every day of the week with one day set aside for rest. By taking one day off each week, you will come back to your activity feeling stronger and more energetic.
B. Intensity
In cardiovascular exercise, intensity asks, "How hard are you working?" Choose activities that raise your heart and breathing rates. A simple way to monitor your exercise intensity is to use the Talk Test. This is based on the understanding that you should always be able to hold a conversation while exercising. Exercise intensity should be adjusted so that two- to three-word phrases are possible.
Pay attention to signs of overexertion, such as pounding in your chest, dizziness or faintness, or profuse sweating. Cool down for five to ten minutes before ending your workout. If any symptoms persist, see your doctor.
C. Time
Time in the FITT formula relates to the duration of the workout. For health benefits, it is recommended that you perform thirty minutes of cardiovascular exercise. You can break down your activity into smaller chunks of time. Think about times that you can do physical activity for ten minutes and build up to thirty minutes.
D. Type
What is the best type of cardiovascular exercise? Any exercise that you will keep doing throughout your life. You must enjoy the activity you choose. Just be sure that when creating your program, you first consult your physician. Think about activities that you used to be involved in, are involved in, or would like to try.
(Excerpt taken from Fit for Faith – 7 weeks to improved spiritual and physical health by Kimberley Payne)
Blessings on the road to health!
Kimberley Payne, a former Personal Trainer who lives in Ontario, combines Christian commitment with ten years experience in the health and wellness arena. Visit her Website www.kimberleypayne.com and you can connect on Twitter @fitforfaith.