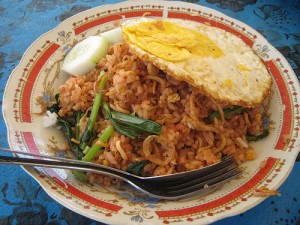 Eating well on-the-road is never easy. Just ask President Obama! On his latest trip to Indonesia, his plate was loaded with Basko (meatballs in a bowl of broth), Nasi Goreng (fried rice, shrimp paste, chili, garlic, shallots, meats, vegetables), Empig (puffy fried crackers made from the Belinjo fruit tree) and Krupuk (deep-fried shrimp cracker made with rice starch). In the company of others, you want to appear gracious but not gluttonous. It can be a fine line, however, once the sumptuous feasting begins!
Here are some helpful tips for dining while dashing.
Breakfast: The key to breakfast is simple: Plan ahead and always include a protein with your carb. This simple rule ensures that you stay full longer and your blood sugar levels remain stable. (In other words, forget about those mid-day cravings!) For breakfast, have hardboiled eggs handy to throw on a piece of toast. Add a juice and banana for a filling, high-protein, low-calorie meal. Another option is to bake up SparkPeople's Applesauce Oatmeal Muffins and store them in the freezer. Add a glass of milk or a piece of string cheese and you're good to go!
Lunch: Sandwiches are an easy way to pack nutrition in a "to-go" format. Try smoked turkey, provolone, lettuce and pesto on pumpernickel; fat-free refried black beans, avocado, lettuce and tortilla; or a veggie burger, lettuce, tomato, onions, peppers and honey mustard in a wrap.
Dinner: Eating out? Take a deep breath and tell yourself, "I'm not going to get the cheeseburger. I have a taste for something healthier than that." Now check out this list of healthy entrees at some of the nation's top chain restaurants:
– Red Lobster: Live Maine Lobster (1.25 lbs)
with Cocktail Sauce, Wild Rice Pilaf, Fresh Broccoli, and Iced Tea
298 calories
3.98 g fat (.63 g saturated fat)
1,520 mg sodium
– Ruby Tuesday: Top Sirloin
with Fresh Steamed Broccoli, Mashed Potatoes, and Water
539 calories
28 g fat
20 g carbohydrates
– Olive Garden: Venetian Apricot Chicken
with Pasta e Fagioli Soup and Fresh Brewed Iced Tea
510 calories
6.5 g fat (2.5 g saturated fat)
2,151 mg sodium
– Denny's: Two Eggs
with Honey Smoked Ham and Grapefruit Juice
514 calories
23 g fat (7 g saturated fat)
1,221 mg sodium
– Applebee's: Grilled Cajun Lime Tilapia
with Black Beans and Corn Salsa
310 calories
6 g fat (0 g saturated fat)
1,250 mg sodium
– Panera: Half Asiago Roast Beef
on Asiago CheeseFoccacia
350 calories
13 g fat (0 saturated fat)
630 mg sodium
Also, don't forget about Subway, which advertises a number of fit selections for a busy life on-the-run.
If you can't find nutritional information, most restaurants will have a customer service call center setup to answer customer questions, including requests from those calorie counters looking for a healthy meal.