Americans love ice cream. In fact, the average person eats 23.2 quarts of ice cream and other frozen dairy products each year but what are the benefits of ice cream?
Portland, St. Louis and Seattle residents eat the most ice cream per capita. Yet, our love of a good Ben and Jerry's tub doesn't come from its purported "health benefits of ice cream", but rather, simply because we love the taste.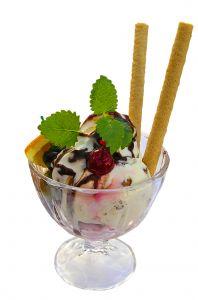 health benefits of ice cream
For this reason, "healthier" versions of low-fat ice cream haven't done as well in stores. Yet, scientists at the University of Missouri-Columbia are out to change that. They understand full well that ice cream is relatively good for us already, but this dreamy delight has so much more potential. These scientists are tinkering with ice cream – not to remove sugar or fat, but to add enough nutritional value that ice cream will be classified a "multifunctional" food. The advantages of ice cream they're proposing will include: Antioxidants, Dietary Fiber, Probiotics and Prebiotics. This new breed of ice cream can play a role in preventing cancer, aid in digestion, encourage good bacteria in gut flora, bolster the immune system, lower cholesterol and lose weight.
Until this "super ice cream" hits the shelves, we'll just have to settle for the current health benefits of ice cream
…
Bone-strengthening Calcium (10% daily recommended value in ½ cup)
Vitamins D, A, B12 and K
Protein (10% daily recommended value in ½ cup)
Low Glycemic Index (meaning that there is less chance you'll have blood sugar spikes and drops associated with most carbohydrates.)
As with anything, there are reasons to be cautious about your ice cream consumption…

First of all, ice cream has a good deal of bad saturated fat, calories and cholesterol. For example, a chocolate-dipped waffle cone with one scoop of Chunky Monkey from Ben & Jerry's contains 820 calories and 26 grams of saturated fat.
Secondly, you might suffer a dreaded ice cream headache if you eat it too fast. This painful reaction is caused by a sudden dilation of blood vessels in the head triggered by the extreme cold hitting roof of your mouth's sensitive nerve center.
Thirdly, you might suffer an even more dreadful headache if you love ice cream so much you click on the YouTube video for "Ice Cream Paint Job."
Lastly, be aware that the irrational and overwhelming desire for ice cream has been known to drive people to do crazy things – like attend an ice cream eating contest in the backyard of a sex predator.