Not since Monica Lewinsky was a White House intern has one blue dress been the source of so much consternation.
(And yes, it's blue.)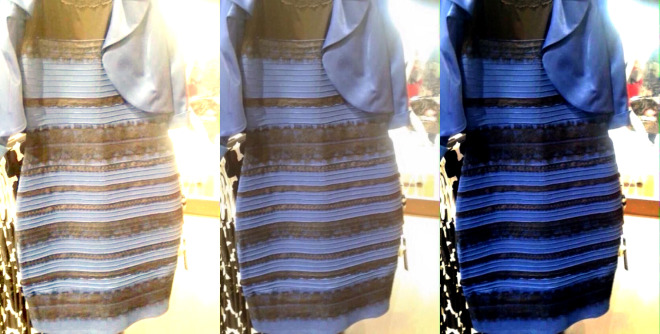 The fact that a single image could polarize the entire Internet into two aggressive camps is, let's face it, just another Thursday. But for the past half-day, people across social media have been arguing about whether a picture depicts a perfectly nice bodycon dress as blue with black lace fringe or white with gold lace fringe. And neither side will budge. This fight is about more than just social media—it's about primal biology and the way human eyes and brains have evolved to see color in a sunlit world.
Light enters the eye through the lens—different wavelengths corresponding to different colors. The light hits the retina in the back of the eye where pigments fire up neural connections to the visual cortex, the part of the brain that processes those signals into an image. Critically, though, that first burst of light is made of whatever wavelengths are illuminating the world, reflecting off whatever you're looking at. Without you having to worry about it, your brain figures out what color light is bouncing off the thing your eyes are looking at, and essentially subtracts that color from the "real" color of the object. "Our visual system is supposed to… For the rest of the article read it on Wired.com The Science of Why No One Agrees on the Color of This Dress