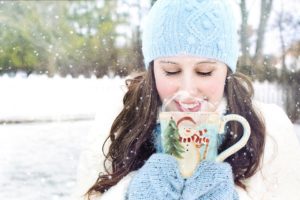 In the cold season, it is quite easy to get sick. It gets colder, and usually, colder temperatures can weaken your body, making it more prone to falling victim of illness, bacteria, viruses or diseases. Are you looking for ways to stay healthier this winter? Follow these simple hacks!
1. Invest in thermals! Thermals are special clothing items that are meant to be worn underneath your "regular clothes". Whether you go for a thermal top, thermal thighs or even both, this is a great way to help your body retain some of its natural heat, as well as fight the cold with more efficiency.
2. Watch temperature jumps! During the winter time, one of the main reasons why people get sick is because they are often exposed to dramatically different temperatures within a very short period of time. Imagine walking walking out a very well-heated room and straight into a cold, snowy road! The sudden difference in temperature that your body will experience can lead to some issues, from fevers and headaches to bone pain or dry skin. Layer up and be mindful about what you are wearing when you are moving from a hot to a cold environment and vice versa!
3. Stay well-hydrated: People always tend to think that the need to stay hydrated mostly applies to hot summer days, but you can just as easily get dehydrated during the winter time. To stay healthy, drink one liter of water throughout the day!