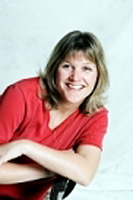 I was never extremely overweight, however, I was very conscious of my mid-section and even as a child I remember holding in my stomach as I walked around. My obsession with my weight began in grade 10 when I gained over 30 pounds within the year. I started to experiment with weight reduction pills and laxatives. Always on a diet, I would eat as little as one muffin in a day. I kept trying to find the "quick fix".
As a child I had participated a little in soccer and softball, but in high school I didn't fit in with the jocks and didn't consider myself to be an athlete, so I stayed away from organized sports.
In University, I drank over 10 Coca-Colas per day, smoked a pack of cigarettes a day and ate canned ravioli, chicken wieners and dill pickle chips. I had extremely low energy and continued to gain weight.
It was not until I became pregnant with my first child that I decided to make a lifestyle change. I stopped smoking (went cold-turkey) and started reading up on health and fitness issues. I wanted my baby to be healthy and so I started to eat more vegetables and more regular meals. I became a "grazer" eating every 2 to 3 hours and I found this worked very well for me.
With my new interest in health and fitness, I started to volunteer at the local YMCA and certified as a Weight Training Instructor to better serve members in the weight room.
After my daughter was born, I started a brisk walking regime to return to my pre-pregnancy weight. I found it wonderful to get out in the fresh air and enjoy the outdoors. The added bonus was that my daughter loved it too.
I enjoyed my new-found energy so much that I took it one step further and certified as a Fitness Instructor. I taught body sculpting and low-impact aerobics and loved leading a pre- and post-natal exercise class.
When my daughter was old enough to start solids, I decided to make my own baby food, and so learned about the joys of vegetables and fruits. I started to use variety in my diet, and tried not to eat the same food within a four-day span. I focused on eating pasta, brown rice, and potatoes with fish, low-fat meats, and poultry and always a generous portion of mixed vegetables. During the day, I snacked on fruit, figs and low-fat muffins, and didn't eat anything after 8:00 p.m.
My interest in the health field continued to grow, and so when I was pregnant with my second child, I certified as a Personal Trainer.
My health is a high priority for me now, especially because it reflects on my two children who have been the inspiration for my complete turnaround.
However, in my early 30's God spoke into my heart. He showed me how I compartmentalized my life – family here, work there, finances here, health there, and faith here. But God wanted me to include Him in everything, even the small things such as losing five pounds.
So I began a partnership with God and each morning I started my day with a prayer.
Dear God – I pray that You instill in me a responsibility to care for my body, to nourish and sustain it.
Dear Lord – I pray that You will remind me each day that You are at work within me and around me.
I spent time reading my Bible and seeking out scripture truths about God's character.
And I ended my day with a journal entry. "Last night, after the children were asleep, feelings of hunger overwhelmed me. Instead, I prayed to God to take the desire for late night snacking away. I then brushed my teeth, washed my face, put on my pajamas and by the time I turned on the television, my desire had subsided. I was honestly surprised how easily I forgot about my apparent hunger."
I realize now that you don't have to be an athlete to be healthy, and if you just incorporate small changes into your daily routine you can change your life. I no longer believe in dieting and feel that the key to a healthy life is moderation in a diet and exercise program. I believe that prayer, Bible study and journal writing are to my spirit what exercise, healthy eating and stretching are to my body.
Kimberley Payne
www.kimberleypayne.com