By Gilbert B. Elwyn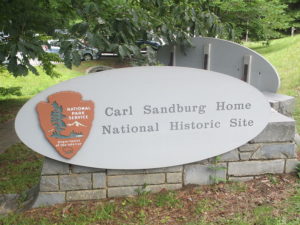 You've surely heard the expression: "It's a nice place to visit, but I wouldn't want to live there."  If you take the short jaunt to Flat Rock, N.C. to visit The Carl Sandburg home, there is a good chance that you won't agree with that sentiment.
The house was purchased by Mrs. Sandburg as a place which would be conducive for her husband to write his poetry and other works. It is hard to imagine how anyone could live high atop a hill amidst some of the most beautiful nature-filled scenery imaginable and not write great poetry.
Visitors will also learn that Connemara, as it is called, was a working goat farm which was run by Mrs. Sandburg, respected in her own right for her prize goats.
The house itself is a dichotomy: a beautiful, large rambling house in a majestic setting, but inside as comfortable as an old shoe.  The Sandburgs and their children all had their routines and their areas of domain (check out Sandburg's work room on the top floor) and the entire house looks lived in and functioning as if the family just stepped out for a walk.  Magazines, correspondence and newspapers are scattered and piled about.  Bookshelves abound.  The décor is simple and rustic, including a liberal use of orange crates (remember them?) as end tables.
Not long after Mrs. Sandburg had turned the house over to the Park Service, one of her daughters visited and decried the neatness of the place as being unrepresentative of them.  The Park Service dutifully messed things up again in the spirit of accuracy.
Animals, including goats, are still kept at Connemara and a Ranger is usually on hand to answer visitors' questions.
Well-marked hiking trails of varying degrees of difficulty were actually walked by Carl Sandburg until nearly the end of his life.
Guided tours are given at a very reasonable price, led by well-informed and enthusiastic volunteers.  The gift shop features Sandburg's writings and recordings among other things, including the invaluable guide to Connemara written by Sandburg's granddaughter Paula Steichen.
There is much more to tell and much more to experience, but at the Sandburg Home it is best gleaned in person; however, I will leave you with a few tidbits to further whet your appetite:
1) Carl Sandburg did not use the canes which are displayed throughout the house.
2) The house was transferred to the Park Service on condition that the birdfeeders would be kept filled.
3) The wonderful photographs decorating the Sandburgs' walls were by noted photographer, Edward Steichen (his picture's on the wall, too).  He was Mrs. Sandburg's brother.
4) The television in the dining area was a gift.  Carl Sandburg thought television to be a "thief of time."
5) Mrs. Sandburg did not use window treatments when they lived in the house. She considered windows to be nature's picture frames.
For more information visit
www.nps.gov/carl