By Gilbert B. Elwyn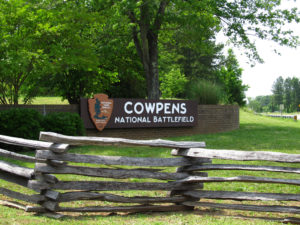 Cowpens is not the most inspiring name. It conjures up a rustic image, much like television's Green Acres and Hooterville. Indeed, the name comes from its use in the late 1700s as an open-range grazing site for cattle. However, Cowpens is also the site of the Revolutionary War battle, which turned the tide of the war in the south, setting up the victory at Yorktown.

On January 17, 1781, forces led by General Daniel Morgan routed Lieutenant Colonel Banastre Tarleton's crack British regular army. You don't have to have a military mind to be intrigued by the simple but effective battle plan…a double envelopment… mapped out by General Morgan and executed perfectly by his forces. Nor do you have to be a history buff to find the stories of the main participants interesting.
The Cowpens National Battlefield, operated by The National Park Service, is located a little over nine miles from the town of Cowpens, and offers a number of special events throughout the year, including the annual Race for the Grasshopper 5k race. This year's race, held on January 12th, will once again send runners around the roads surrounding the battle site.
The race's name is derived from the British cannon used at the Battle of Cowpens: "The three-pounder Revolutionary War cannon was called a 'Grasshopper' because it had a recoil of about 5 feet and looked somewhat like a grasshopper jumping when it was fired… Near the end of the Battle of Cowpens, Lieutenant Colonel John Eager Howard ordered Captain Ewing of Maryland to capture the second British cannon, known as grasshoppers. Captain Anderson of Delaware overheard the order. Wanting the honor of capturing one of the guns, he got into a footrace with Captain Ewing. Captain Anderson won when he pole-vaulted to the first cannon by using his spontoon (a 'spear' that officers used for signaling.) Captain Kirkwood of Delaware captured the other grasshopper. This race honors those men who were in the first 'Race for the Grasshopper'" (from the Cowpens National Battlefield web site www.nps.gov/cowp).
The gift shop and interpretive center at the site display originals and replicas of Battle of Cowpens memorabilia, as well as information regarding the two US Navy ships which have honorably carried the name USS Cowpens. The first of these was an Independence class aircraft carrier, the "Mighty Moo," which saw duty in WWII, winning 12 Battle Stars and a Navy Unit Commendation. The second USS Cowpens is a Ticonderoga class guided missile cruiser, which in 2003 became the first USN ship to attack in the war with Iraq. She fired the first 37 Tomahawk cruise missiles.
It just goes to show: what's in a name?
For more information visit www.nps.gov/cowp