By Lorna G. Williams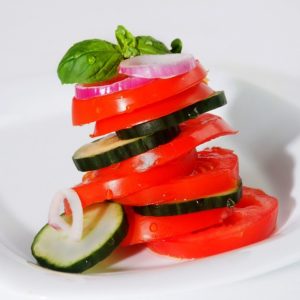 It seems that the holidays revolve around food. For most of us, the holiday season begins in mid-November and ends in January, giving us eight weeks to overindulge. Weight gained during this time tends to stay with us. Therefore, it is important to carve out a healthy lifestyle amid our busy holiday activities. Armed with knowledge about good nutrition, it is possible to eat healthy and still enjoy the holidays. You do not have to feel deprived this season… just make compromises and wise choices.

· So what can you do to stay on track during the holidays and not gain the holiday five or ten? Following are some suggestions for having a healthy and guilt-free season.
· Portion control is probably one of the biggest factors in avoiding the typical weight gain that many people experience between Thanksgiving and New Year's Day. Go ahead and enjoy those special holiday foods, but just take smaller portions of everything. Use a smaller plate to help with portion control. Take second helpings of healthy salads and vegetables if you are still hungry.
· Eat before you go. It has often been said that one should never go grocery shopping while hungry. The same advice applies to holiday activities. Never hit a party or holiday event on an empty stomach. We often eat too fast and too much when we are really hungry. Eat a light healthy meal or at least a snack of fruit an hour or two before a big meal. You are more likely to control your intake if you are not extremely hungry.
· Eat five or six small meals daily rather than the usual three meals and do not skip breakfast. Frequent eating helps to control blood sugar and curb your appetite. If we don't eat during the day because we are saving up for the big meal, we will almost always overeat. Eat slowly, chew food thoroughly, and take time in between bites of food. Listen to your body's signals. If you feel full stop eating! Don't eat with reckless abandon until you feel ready to explode. If, after dinner, you wind up on the couch, having to loosen your belt or put on your baggiest sweat pants, chances are you may have overdone it.
· Avoid high calorie beverages such as eggnog and sugary punch. One cup of eggnog can contain up to 350 calories! Instead, choose diet sodas, club soda with lemon or lime, or water. Drinking plenty of water has the added benefits of helping to keep your body hydrated and helping to fill you up.
· When choosing from a buffet, enjoy sampling a variety of foods – just choose small portions. Skip the usual and familiar foods (you can have potato chips and dip anytime) and choose the special holiday items instead. All foods can fit in moderation, just keep an eye on portion sizes and balance high and low fat options. Spend your extra calories carefully. Enjoy what you really like rather than what you don't care for as much. Take it easy on hors d'oeuvres when a full course meal will be served later on.
· When faced with the choice of two equally desirable dishes, opt for the more nutritious option. For instance, choose the pumpkin pie over the pecan pie, and save about 200 calories, while getting a good dose of healthy beta carotene at the same time. Choose mostly fruits and vegetables without a lot of sauces, dressings or creams and then add small portions of your favorite foods as a treat. Watch out for otherwise healthy foods that are swimming in high-fat sauces, cheese, or dips. Recognize high-fat foods and try to limit them as much as possible. Avoid fried foods, creamy soups, cheesy items, pie, processed meats (salami, sausages, etc.) and some pastries and baked goods.
· As a hostess, prepare foods nutritiously in order to help your guests and yourself. Use nonstick cooking spray instead of heavier fats and oils. Choose lower fat meats like turkey breast and lean ham. Prepare stuffing outside of the turkey. Use skim milk and low fat cheeses. Flavor foods with lots of herbs and spices. Use two egg whites rather than a whole egg in recipes. Serve angel food cake with fresh or frozen fruit and light whipped topping rather than heavier desserts.
· To compensate for high-calorie foods, increase your exercise over the holidays. Exercise can burn calories, reduce holiday stress, and renew your energy levels. Before a holiday event, take a brisk walk around your neighborhood to help reduce your appetite. When the feasting is over, take a walk instead of a second helping.
· A practical tip is to not attempt to lose weight during the holidays. This is an unrealistic goal that will set you up for failure and add to the stress of the holiday season. Since many people gain weight during the holidays, you will actually do well to just maintain your weight. Make that the goal that you strive for.
· Finally, as you prepare for the holidays, take the time to plan ahead, make lists, and budget your time so that you are not overburdened. Think through the events to come and make wise choices and decisions beforehand. If you have an especially hectic day, take along a food bag of healthful items that will provide a bag of healthy food items that will provide a quick snack or meal, as an alternative to stopping at a fast food restaurant.
Many holiday and family traditions revolve around foods that make the season special. Since overall health is determined by your long-term choices throughout the year, limiting high-fat foods, maintaining a healthy diet and getting regular exercise year-round will fend off significant permanent weight gain from holiday festivities. Determine to celebrate wisely and in moderation. Enjoy the special foods, but don't make the food the focal point of your celebrations. Enjoy the time of time of fun and fellowship with friends and family and make that the highlight of your holiday. If you eat more than you had planned, get back on track the next day and set realistic diet and exercise goals for a healthier New Year! However you deal with the holidays, make this the year that you don't gain extra weight. Make a decision to do everything you can to stay active and eat healthy.