By Gilbert B. Elwyn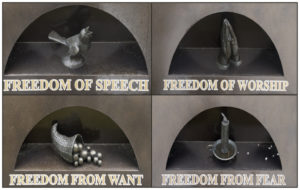 January 6th 2010 is the 67th anniversary of Franklin D. Roosevelt's "Four Freedoms" speech. If you are not familiar with the actual speech, you are possibly aware of Norman Rockwell's four-painting representation. Rockwell's picture of a family gathered around the dinner table is particularly popular during Thanksgiving and Christmas.
President Roosevelt's speech was addressed to the 77th Congress and warned of European aggression, the dangers of isolationism, and being unprepared militarily. It was not until page 8 of his 9-page speech that the President mentioned looking "forward to a world founded upon four essential freedoms."
• "Freedom of speech and expression"
• "Freedom of every person to worship God in his own way"
• "Freedom from want"
• "Freedom from fear"
These four freedoms were elaborated upon to place them on the world stage, but we prefer Rockwell's paintings, which brought them to the personal level.
It is ironic that, as this crop of candidates' oratory raises to fever pitch before the first primaries, these four essential freedoms, 67 years after they were first enumerated, are still being bandied about as campaign issues. It is tragic that we shall probably hear no further mention – or, at least very little – of these four freedoms after Inauguration Day. They will lie dormant, awaiting the next wave of campaigners.
As you ponder your electoral choices, national and local, we suggest that you would do well to use the Four Freedoms as a guideline – a litmus test, perhaps – as you make your choices. What have the candidates done in the past and what do they propose to do – concretely, not rhetorically – to secure these Four Freedoms for you, the United States Citizen.
We also offer these election tips:
1. Do not let anyone – friend, family member, religious leader, or celebrity – tell you how to vote. It is your vote. Use it wisely and well.
2. Vote the candidates and the issues, not the party. This is not Tigers vs Gamecocks. If the best candidate is chosen we all win. The Founding Fathers did not think that political parties, even their own, were healthy for democracy.
3. Do not let the media make your choice for you. Unbiased journalism is as rare as the Northern Hairy-nosed Wombat. Threatening the habitat of the true journalist is incompetence, prejudice, power, and ratings.
4. A post-election tip: keep a scorecard on the winners – the elected "servants of the people." We do have term limits in the United States. They are called Elections.
We'll leave you with Billy Strayhorn's more personal Four Freedoms: "freedom from hate, freedom from self-pity, freedom from fear of doing something that would benefit someone else more than it would himself, and freedom from the pride that could make him feel that he was better than others."