By Gilbert B. Elwyn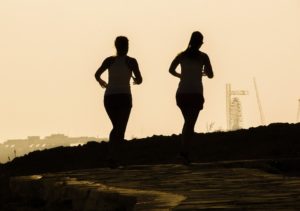 If you began your running when we began these articles, we hope that you are doing well and enjoying your running. Shorter distances should not be problematic by this time. You might even have run a race by now.
You might also be looking for new challenges by now. Sometimes a sense of stagnation can set in for a runner when new goals aren't set.
There are three ways to overcome this.
One is to vary your running routine and/or route. Even doing your usual route backwards can make it seem fresh. Signing up for an interesting race can "jump start" your running, too.
Another way is to increase your speed. This should already be happening as you increase your running fitness, but there are some tips we can give you and will do so at a later date.
The third way is to increase your distance. If your current top distance is 5k, shoot for a 10k goal. It sometimes helps to pick out a race at the new distance to enter as a "goal race."
We'll cover 10 miles and beyond another time, but for now we'll chat about expanding 5k to 10k. The answer is simply to do what you did to get to 5k; take it slowly and safely, scheduling short increases to your training. Alternate the longer runs with shorter runs.
Wishing you Miles of Smiles!