By Mallie Majarais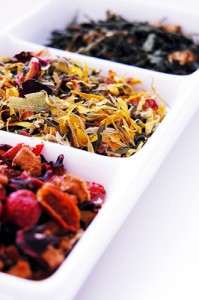 "What is not tea?"
A confusing attribute of tea is that many of the beverages that are called "tea" are actually not tea. Herbal teas, termed Tisanes (a French word for "herbal infusion"), are usually dried flowers, fruits or herbs infused with boiling water-no actual tea leaves are included. Historically used for medicinal reasons or as a caffeine-free alternative, many Tisanes are growing in popularity.
Basically any flower, fruit or herb that can be ingested can become a Tisane. The first recorded mention of Chamomile being chugged was in Egypt dating back to 1550 BC. This light, sweet concoction is still revered for its calming effect. Rooibos, is quickly stealing the spotlight from green tea. Also known as "Red Bush Tea" or simply "Red Tea," Rooibos was introduced as a substitute for black tea. Recent health benefits attributed to Rooibos are allowing it to emerge as a legitimate drink in itself. Peppermint has been used as a caffeine-free home remedy aiding digestion and soothing the stomach for millennia. Finally, the newest drink to say "olá" to the herbal market is called Yerba Mate. This South American herbal tea both energizes and remedies the body. While the taste tends to be quite unusual to newcomers, there are many benefits. Mate has now been introduced to the US as a substitute for coffee (in that it doesn't contain the toxins, but still stimulates.) The wide diversity of tisanes available makes the combination possibilities virtually unlimited.

No longer a drink merely for the pregnant, caffeine-sensitive or those trying to catch some Z's, Herbals have found a new place in the drink market. O-CHA tea bar carries a wonderful variety of Tisanes; Egyptian Chamomile, a South African Rooibos, an organic Peppermint, and a South American Roasted Yerba Mate, just to name a few, for your brewing pleasure.
Please visit us at 300 River St., Suite 122 Greenville, SC 29601
864-283-6702 We are located below the Hampton Inn and Lazy Goat restaurant on the River Walk, West End Greenville. www.ochateabaronline.com