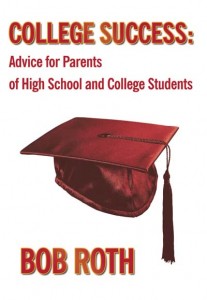 Bob Roth, aka The College & Career Success Coach, knows that all parents want their children to do well in college and land a good-paying job with a respected employer. The author's most recent book, College Success: Advice for Parents of High School and College Students, enables parents to coach their students through the college years to that end. Roth asserts that when parents and students team up, discover what recruiters really want from college seniors and develop a simple game plan for college, students are much more likely to achieve the results that the best employers crave.
College Success unveils 13 success factors that the best employers look for as they evaluate students. It also reveals, for the first time, the five critical areas where college students can excel if they want to attract the attention of employers. Roth agrees that good grades are important, but few parents and students realize that other areas can be just as meaningful. The book will help parents and students understand that employers seek students who have participated in and achieved results in more than one area and can provide stories and descriptive examples of their successes. When students with only average or slightly above-average classroom performance achieve outstanding results in another critical area, they too will attract the interest of employers.
Roth advises, "The senior year job search actually starts in the freshman year. It's what students accomplish during their first three years of college that can enable them to create a resume that will motivate employers." Students must take care to begin making their mark during these critical years, as those students who wait too long to get started will never catch up. "Students who stand on the sidelines will not impress employers," Roth concludes.
College Success: Advice for Parents of High School and College Students is available at http://www.authorhouse.com, online booksellers and a variety of bookstores.
About the Author
Bob Roth, a former campus recruiter, is the author of three books: College Success: Advice for Parents of High School and College Students, The College Student's Guide to Landing a Great Job and The 4 Realities of Success During and After College. Known as The College & Career Success Coach, Bob also writes articles for more than 225 college career services offices, campus newspapers, parent associations and employment web sites. Additionally, he has been interviewed on numerous radio programs across the country and also by many newspapers, including The Wall Street Journal. Bob has served as an adjunct at Marist College, teaching a course in career development.