By M. J. Brenneman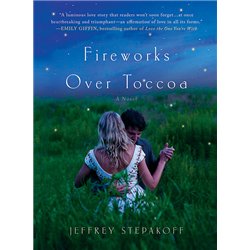 "Fireworks over Toccoa" makes for an amusing beach read – a love story of commitment, passion and duty, set in Georgia's charming community of Toccoa at the end of WWII. The story is one of Lilly Davis, who is giving advice to her granddaughter Colleen before her upcoming marriage. As Colleen struggles with contentment in her choice of partner, Lilly recounts her life in the summer of 1945 when she was 20 years old and three years into an invisible marriage with a husband who was away at war in Europe. Within four days of her husband's homecoming, Lilly falls in love with the town's hired fireworks director, Jake Russo. Jake, a mysterious Italian-American, can cook magical risotto that makes any woman instantly fall for him. After spending three brilliant days with Jake, Lilly must choose between a life of duty to a commitment already made or blissful perfection with her newly discovered soul mate.
Stepakoff's mid-century Toccoa evokes a charming world of kudzu forests, Native American legends, southern etiquette and Coca-Cola Classic. Southern readers will appreciate descriptions like, "the feelings wept into her heart like a pad of butter on warm grits", and "Southern women didn't sweat, of course. They glistened. Like peaches in the dew." With references to notable Southern landmarks like the Biltmore Estate, Atlanta's Buckhead community and my favorite, Travelers Rest, South Carolina, any southerner is sure to find something familiar.
The setting of this novel accurately paints a lovely picture in keeping with this city's name: 'Toccoa' is the Cherokee word for 'beautiful'.
For more information about Jeffrey Stepakoff Please visit his website.