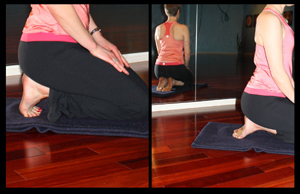 As part of Susi Hately Aldous' extensive training program a common problem she often addresses with her clients and students is the pain experienced as a result of walking in stilettos and heels all day. Some women claim they cannot live without their 4 inch heels and as a result they are seeking effective ways to combat the pain experienced at the end of the day or night.
Susi offers a few simple yoga tips for those of us who are not willing to let go of the Manolo's but would like to put an end to the pain often felt at the balls of our feet, in our calves, and even in our backs and hips (resulting in bad posture). Please see attached photo for two simple foot stretches Susi recommends to help alleviate pain associated with wearing high heels.
Susi explains that "the soreness we feel after a day in heels has much to do with the short term muscular fatigue. Over the long term this soreness can lead to adaptive change. By using specific stretches and massages you can reverse the impact of a day of heel wearing."
Susi Hately Aldous is a renowned yoga teacher and author of several international best-selling yoga books. Her latest title, Advancing Your Yoga Practice: the Art of Slowing Down launched in fall 2008 and follows her other titles including Therapeutic Yoga and Anatomy and Asana: Preventing Yoga Injuries Series. Her yoga skills are enhanced by her B.Sc. in kinesiology, post-graduate training in mind-body medicine and ergonomics and, practical field experience assisting companies with disability management and workplace safety issues.
Susi's main focus and expertise is in helping people overcome pain and injuries with her customized yoga therapy programs. Since 2004, Susi teaches a comprehensive therapeutic certification program for aspiring instructors to learn the importance of well-being as it affects various conditions. This training program, based on the Hatha yoga method, encompasses her wide range of acquired disciplines including kinesiology, yoga iRest (yoga nidra), rehabilitation, modern mind-body science and practical experience as an exercise therapist and ergonomics consultant. Find more info at www.functionalsynergy.com.