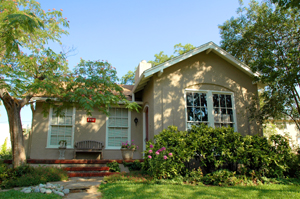 When doing a search through available homes on the Greenville SC market, I found that seven styles seem to be the most prominent in the Greenville SC area. The seven most prominent I found are Traditional, Ranch, Bungalow, Contemporary, Colonial, Victorian, and Cape Cod.
The Traditional style is used more than any other to describe homes on the Greenville market, however, it is really hard to put a definition on Traditional style. Traditional can be a label put on a mix of different classical American styles or to some people it can even be used to describe other styles like Colonial, Georgian, or Cape Cod. Traditional is a very safe label when a home does not have an obvious style.
The Ranch Style is the second most prominent used to describe homes on the Greenville market. Ranch homes were most popular in the 50's and 60's. Common features include pitched-roof, picture window, brick exterior walls, and built-in garage or car port. Ranches are one story homes that are usually not as open in floor plan as homes built today and most of the Ranch style homes in Greenville are on crawl spaces with a small number on basements.
The Bungalow style is not quite as popular as the ranch but could be used to describe a number of homes on the Greenville market. Bungalows were most popular on the East Coast in the early 1900's. They are usually one story, rectangle shaped, narrow homes that do not have an attached garage and are smaller in size. The Bungalow is considered a forerunner of the Craftsman style.
Contemporary, Colonial, Victorian, and Cape Cod styles are sprinkled throughout the Greenville market, but just remember, if you are not sure, call it Traditional.
If you ever want to see a wide range of styles in the Greenville area with historical significance, just take drive down Hampton and Pinckney Streets near Downtown. There you will find everything from Queen Anne (Victorian) and Craftsman to Gothic Revival, Colonial Revival, and Italianate. For a copy of the walking tour Click Here
George Clements
Greenville SC Realtor