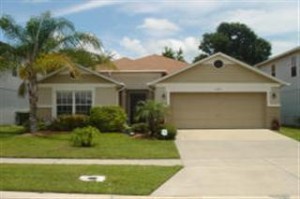 Are you a "Snowbird" looking to escape the cold, the snow and the inevitable big freeze this Winter? If so, you'll want to consider your options and top of the list should be renting a vacation home in Orlando.
Orlando is a great place to spend the winter as it offers so many things that make an extended stay such a pleasure. For a start there are fewer tourists during this time of year and that means it's very easy to get around and to enjoy the "Sunshine State." Of course, being the "Sunshine State" you'll also see plenty of sun as well as have a multitude of things to see and do.
The weather is the first consideration for most and while the rest of the country is suffering from temperatures below freezing, Orlando still has relatively mild temperatures. The average temperature from November through to February is somewhere between 65 and 75 degrees, and that allows Snowbirds to leave their winter coats at home and wear t-shirts and shorts during the day.
Another popular reason for an extended stay in Orlando is the entertainment on offer as many of the popular theme parks stay open all year long. Disneyworld, SeaWorld and Universal Orlando are all well known but there are hundreds of other places to visit and enjoy as well.
As for accommodation, most snowbirds love the appeal of a vacation rental home. The homes have anywhere from three to seven bedrooms so that makes inviting the rest of the family down for the weekend or for a longer stay very easy. Most vacation homes also have all the comforts of being home away from home with large screen TV's, full size kitchens, laundry facilities, internet access, garaged parking and best of all, a private heated swimming pool to lounge around in. Orlando's vacation homes are also located in convenient locations to the theme parks, attractions, shops and restaurants so a journey of a few minutes has you in the thick of it all.
Affordability is an important consideration from most snowbirds and it's another reason why Orlando tops the list of places to visit. Flights to Florida are inexpensive should you choose to take the quick route but many folks enjoy a leisurely journey staying overnight at places on the way.  Once you arrive in Orlando, you'll find it is extremely affordable. Vacation homes can be rented by the day, by the week or by the month and the best times to secure that fabulous travel deal are the winter months when most of the nation is working or the kids are in school.
So that about sums it up; great weather, fabulous entertainment and all at an affordable price make Orlando living an unbeatable combination for great living during the Winter months.
©2010 For more information about vacation homes, click here or call 407 870 1600